"I like my work to speak, delight, amuse, and surprise…"[i] -Gail Ritchie
Since the 1970s the American artist Gail Ritchie (b. 1947) has created work that "[celebrates] the environment" and nature.[ii] "She is "drawn to the restorative power of time spent in the peacefulness of the natural world, and [enjoys] the challenge of manipulating clay into delicate and intimate objects, using elements and imagery from that world."[iii] As you study Ritchie's teapots and sculpture, she not only "[inspires] curiosity," but gently encourages reflection.[iv] In essence, she "[invites] viewers to pause, and find quiet in the rhythm, essence, and detail of the vulnerable places and creatures represented in [her] work."[v]
Over the years Ritchie has consistently made narrative teapots. These teapots, she says, "encompass everything."[vi] "All the elements must be there," not just the form, but the function as well.[vii] Essentially, a teapot poses "the biggest challenge" and, for Ritchie, it seems that challenge can be enticing.[viii] The Kamm Collection has three of her hand-built porcelain teapots:  Birch Bark Tea Set (1983), Estuary Toys (1990), and Morning Glory Teapot (2012).  Upon close inspection, there is a softness, a gracefulness and, at times, a playfulness present in these detailed constructions.[ix] These are all qualities frequently found in Ritchie's work. Another distinctive aspect of her ceramics is her utilization of the trompe l'oeil technique. In these instances, Ritchie skillfully recreates objects and animals that truthfully emulate their organic counterparts.
FOUNDATIONS
Ritchie grew up in a household where "artistic expression" was "encouraged."[x] Early childhood was spent in Meriden, Connecticut, a town known for its silver factories. Her father worked as a silversmith and many artists were among their circle of family and friends. In this environment Ritchie had the freedom to explore the outdoors, and she found inspiration in those surroundings. Often, she remembers "[recreating] objects out of paper" and tape.[xi] When Ritchie did not have tape, she would use band-aids to hold her constructions together.[xii] During this period, her understanding of different materials expanded when she started taking weekend art lessons at a neighbor's house.[xiii] From collage and pastels to mosaics and copper enameling, Ritchie ended up receiving an impressive foundation at a young age.
In 1959 Ritchie's family moved to the West Coast. This new setting, with its orange groves and tumble weeds, "[planted] new seeds of creativity."[xiv] Ritchie attended San Jose State University receiving her Bachelor of Fine Arts degree in 1971. This was where she discovered her love of clay. The program was run by Dr. Herbert Sanders who was known for his affinity for Japanese ceramics and crystalline glazes. However, for Ritchie, who was in the "beginners program," it was the professors John Leary, James Lovera, and Robert Fritz who helped her gain the fundamentals from how to throw on a wheel to glaze calculation.[xv]
Ritchie continued her study of ceramics at San Francisco State University receiving a Master of Fine Arts in 1974. There she took classes from Charles (Bud) McKee, David Kuraoka, and Joe Hawley. Ritchie also met fellow student Kathryn McBride. These two women became dear friends, colleagues, and even collaborators. For both McBride and Ritchie, their professor Bud McKee would leave a lasting impression. A holdover from his critiques, both artists, in the years to come, would analyze their work asking, "does it sing?"[xvi] In essence, does "all the elements in the piece align?"[xvii] Ritchie says, "On occasion I can answer 'Yes.'"[xviii] McKee was also the person who encouraged her to paint on the surfaces of her ceramics. Ritchie left behind transferable silkscreen photos and entered the "world of underglazes and lusters."[xix] This advice "changed everything" for her.[xx] Ritchie continues to use underglazes today on her porcelain surfaces. Glazes are reserved for special occasions when she feels she needs "more of a sheen."[xxi]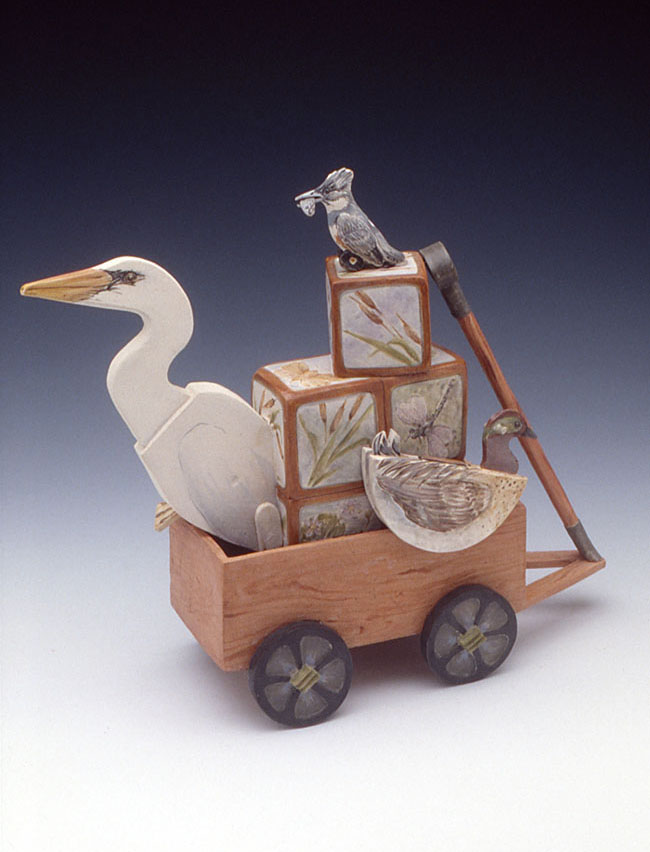 KAMM TEAPOT COLLECTION
Two of Ritchie's works in the Kamm Collection, Estuary Toys and Morning Glory Teapot, reflect her long-standing fascination with birds. She seems to be just drawn to them. This interest, Ritchie thinks, began early in her life. When her family moved from Connecticut to California, among the precious objects she chose to bring along on the journey was a book called Hammond's Nature Guide, A Pictorial Encyclopedia of America's Outdoor Treasures (1955). The pages were filled with images of animals, birds, rocks, and insects. In this publication, Ritchie later discovered a little color drawing of a goldfinch that she had done at a very young age. Remarkably, the same birds highlighted in Hammond's Guide still have prominence in her work today. Also important are the ducks, geese, herons, and egrets which she discovered in the San Francisco Bay area. After moving to Northern California, Ritchie says, she became a birdwatcher.
Estuary Toys features a white egret, a kingfisher, and a duck all aboard a wooden wagon. Inside the wagon are stacked blocks featuring marshland species such as cattails and dragonflies. The wagon handle acts as the teapot's handle, the egret serves as the spout, and the kingfisher, resting on top of the blocks, is the lid. Estuary Toys was created just a few years after Ritchie's daughter was born. During this period, she was thinking about toys. Old toys particularly intrigued Ritchie which is evident here. The little duck on the side resembles a rocking horse, the kingfisher, which has wheels instead of feet, is meant to be a windup toy, and the egret is intended to be a puppet. For Ritchie, "motherhood profoundly influenced [her] work and later [her] teaching."[xxii] Having a child "reminded her that play was essential to discovery…"[xxiii] 
Morning Glory Teapot is the second of the two bird themed teapots in the Kamm Collection. In this instance, Ritchie's subject is a crowing rooster who is richly painted in reds, blues, and browns. Blue morning glory flowers on a vine rest at his feet and a single blossom on his back acts as the teapot's lid. The rooster's flowing feathered tail curves downward serving as a handle and his open beak is the spout. A drawing for this work was among Ritchie's submissions to a competition for the tea company Celestial Seasonings. Even though the design was not chosen, Ritchie hung onto the idea. She wanted to make that rooster one day.[xxiv] Morning Glory Teapot was eventually created for an exhibition at Ferrin Gallery in Pittsfield, Massachusetts, which is where the Kamms acquired the vessel.
The last work in the Kamm Collection is Birch Bark Tea Set which includes a teapot and two cups with saucers. Ritchie has created numerous trompe l'oeil birch bark pieces over the years which she feels has become her signature. The origin of this idea can also be traced back to Ritchie's childhood in Connecticut. The woods surrounding her family's house had birch trees. Ritchie remembers discovering the loose bark on the trees and finding fragments on the ground. At that time, she wondered what she could make from this interesting material. Like paper, the bark can be easily cut, bent, and sewn. Ritchie says she just "could not resist" "the brilliant surface and texture."[xxv] Years later when she started working in porcelain everything came together. Ritchie was rolling out thin porcelain slabs and remembered that experience with the birch bark. She thought, "oh, my gosh. I can make my own birch bark. I can texture it. I can paint it. I can sew it together."[xxvi] For Birch Bark Tea Set, very thin slabs were employed for the walls and tiny coils were used to make the small, extruded strings that attach the different components together. The surfaces are carefully painted, a process that Ritchie seems to relish. As soon as she picks up the paint brush, she thinks, "I'm where I really need to be."[xxvii] The end result is a captivating interpretation of birch bark in clay that truly fools the eye.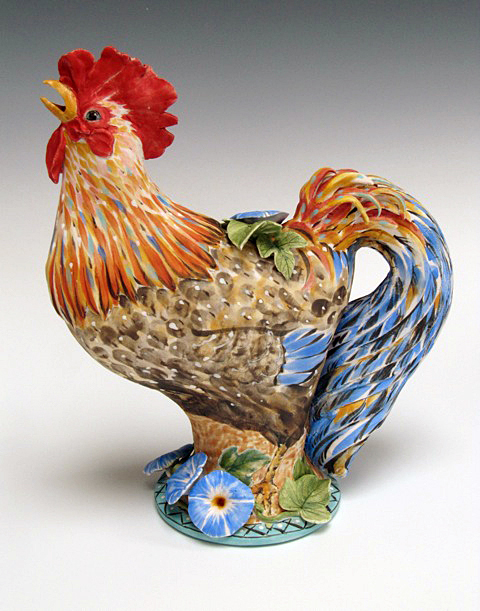 TEACHING AND COLLABORATIVE PROJECTS
Ritchie has taught ceramics since completing graduate school. She says she "just finds so much meaning" in teaching and "it's gratifying."[xxviii] Ritchie has held positions at institutions such as West Valley-Mission College in Santa Clara, Sharon Art Studio in San Francisco, and since 1978 she has regularly taught at Cabrillo College in Aptos, California.[xxix]
For many years Ritchie and Kathryn McBride were colleagues at Cabrillo. In 2010 McBride had an idea for Cabrillo's exhibit at the California Conference for the Advancement of Ceramics (CCACA) in Davis.[xxx] She wanted to do a collaborative group project. In preparation for this Ritchie and McBride taught a ceramics class together. The students, who were mostly intermediate level, were involved with "group planning, designing, decision making, and [of course there was] compromising along the way."[xxxi] The first collaboration, which was called Cabrillo Rocks, was a majestic rock arch and waterfall. This began an annual tradition. Following McBride's death in 2012, Ritchie has continued that tradition sometimes with the help of other colleagues. Recent installations have included a trompe l'oeil Farmers Market (2015) and Guardians (2020/2021) which addressed the stewardship of our planet. This past spring for the conference the students designed an installation that resembled a plant sale. The Plant Sale, which has been renamed Perpetual Bloom, is currently being reinstalled at MUD Gallery in Santa Cruz and will open on September 1, 2023.
Further Reading/Viewing:
Ritchie, Gail, Amy Bobeda, and Sarah Poisner.  Gail Ritchie.  Davis, CA:  John Natsoulas Press, 2022.
Where Hopes Lie, John Natsoulas Gallery, Davis, CA, 2022. Examples of Ritchie's recent work. This exhibition featured "children engaged in the discovery and magic of nature" as well as pieces from Ritchie's series that explores chairs. Each chair "depicts a fragment of a fragile, wild place."[xxxii]
Notes:
[i] https://gailritchieceramics.com/, 26 July 2023.
[ii] Ritchie, Bobeda, and Poisner, 7.
[iii] https://gailritchieceramics.com/, 26 July 2023.
[iv] Ritchie, Bobeda, and Poisner, 164.
[v] https://gailritchieceramics.com/statement. 31 July 2023.
[vi] Gail Ritchie, Phone conversation with Allie Farlowe, 8 August 2023.
[vii] Gail Ritchie, Phone conversation with Allie Farlowe, 8 August 2023.
[viii] Gail Ritchie, Phone conversation with Allie Farlowe, 8 August 2023.
[ix] Gail Ritchie, Amy Bobeda, and Sarah Poisner, Gail Ritchie, (Davis, CA:  John Natsoulas Press, 2022), 10.
[x] Ritchie, Bobeda, and Poisner, 12.
[xi] Ritchie, Bobeda, and Poisner, 12.
[xii] Ritchie, Bobeda, and Poisner, 12.
[xiii] Ritchie's art teacher was named Helen Wyrtzen. She had an art degree from Skidmore College.
[xiv] Ritchie, Bobeda, and Poisner, 18.
[xv] Ritchie, Bobeda, and Poisner, 20.
[xvi] Ritchie, Bobeda, and Poisner, 27.
[xvii] Ritchie, Bobeda, and Poisner, 26.
[xviii] Ritchie, Bobeda, and Poisner, 27.
[xix] Ritchie, Bobeda, and Poisner, 27.
[xx] Ritchie, Bobeda, and Poisner, 27.
[xxi] Gail Ritchie, Phone conversation with Allie Farlowe, 8 August 2023. There is also glaze inside the teapots in case they want to be utilized.
[xxii] Ritchie, Bobeda, and Poisner, 36.
[xxiii] Ritchie, Bobeda, and Poisner, 36.
[xxiv] Gail Ritchie, Phone conversation with Allie Farlowe, 8 August 2023.
[xxv] Gail Ritchie, Phone conversation with Allie Farlowe, 8 August 2023.
[xxvi] Gail Ritchie, Phone conversation with Allie Farlowe, 8 August 2023. When Ritchie started making these forms, she was also aware of the birch bark baskets made by Native Americans. Indigenous people have long-held traditions surrounding the material. They used the bark to make containers for a range of purposes which included cooking, gathering food, and hauling water.
[xxvii] Gail Ritchie, Phone conversation with Allie Farlowe, 8 August 2023.
[xxviii] Gail Ritchie, Phone conversation with Allie Farlowe, 8 August 2023.
[xxix] West Valley-Mission Community College is in Santa Clara and Saratoga, CA.
[xxx] Since 1987 this conference has been hosted by John Natsoulas Gallery in Davis, CA.
[xxxi] Ritchie, Bobeda, and Poisner, 91.
[xxxii] Ritchie, Bobeda, and Poisner, 164, 57.
Allie Farlowe is a metalsmith, jeweler, and independent arts writer. Her previous professional experience includes museum work in curatorial and registration departments.