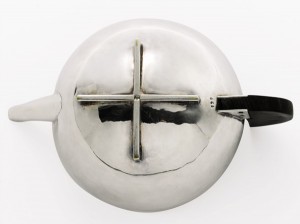 This teapot was designed by Marianne Brandt, an important designer of the Bauhaus School. Brandt first made this teapot while she was a student at the Bauhaus in 1924, and showed this example in an exhibition in Leipzig in 1927, when it was purchased by the Jossé family. It was produced in silver-plated brass, with an ebonized wood handle. Like many Bauhaus works, this piece has minimal surface decoration, but, instead, relies on elegant, inventive shaping for its aesthetic appeal, and includes practical design details, such as the wooden handle to prevent heat conduction.
This particular teapot is a rare example of the Model No. MT 49 by Brandt, which was not mass-produced. Variations of this design are in the collections of the British Museum in London, England, the Metropolitan Museum of Art in New York, New York, USA, and the Weimar Classics Foundation, which is on display at the Bauhaus Museum in Weimar, Germany.

Bauhaus
The Bauhaus was an art and design school founded by the architect and industrial designer Walter Gropius in 1919 in Weimar, Germany. The goal of the Bauhaus was to unite arts, crafts, and technology into a unified Gesamtkunstwerk, or total work of art. The name Bauhaus, which translates literally to "the grand building," alludes to the idea of a medieval cathedral, which required many kinds of craftspeople and masons to realize. This idea was in opposition to the dichotomy of artisans and artists, or the "salon arts," as Gropius called creative arts separated from the work of ornamenting buildings. The school moved to its second campus in Dessau, Germany from 1925 to 1932, when it was dissolved by the Nazi Party. A second, illegal campus was also operated in Berlin from 1931 to 1933, when the remaining students were discovered by the SA–the Nazi paramilitary police–and arrested.
While Bauhaus works span many styles, movements, and forms, some recurring themes in Bauhaus works were to design for mass production, modular shapes that can be fitted into one another, and the absence of ornamentation on the surfaces of furniture and buildings.
Marianne Brandt
Brandt (nee Liebe) was born in 1893, and originally studied painting and sculpture. In 1924, she came to study in Bauhaus Weimar, and worked in the metalworking workshop of László Moholy-Nagy, and became the deputy head of the workshop in 1926. During her time with the Bauhaus, Brandt designed many works in quick succession, and managed projects with industrial manufacturers. Later, Brandt also worked designing modular furniture for mass production for Gropius's architecture firm, and was head of the design division for the applied arts at Ruppelwerke Metalware Factory in Gotha until 1932.
Further reading:
Art Directory "Marianne Brandt."
The Metropolitan Museum of Art. "Marianne Brandt: Tea infuser and strainer." Heilbrunn Timeline of Art History October, 2006.
Modernism in American Silver by Jewel Stern. p. 85. Yale University Press. New Haven, NJ, 2005.