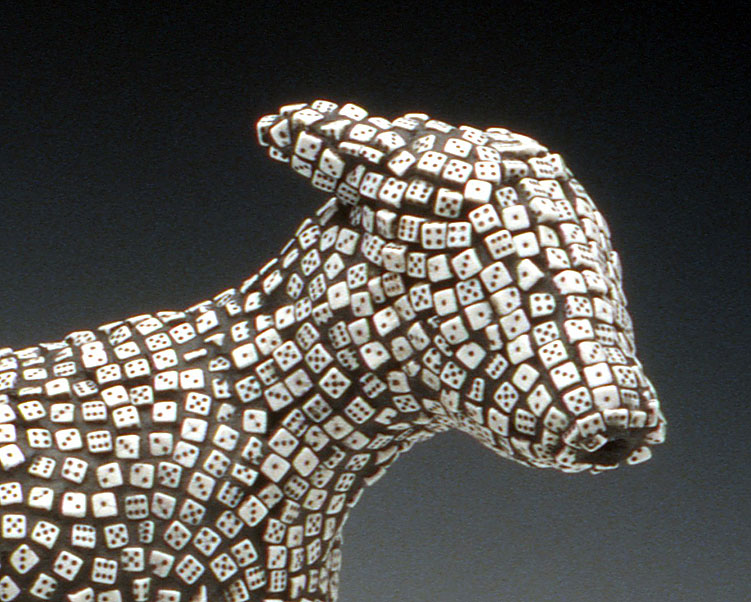 The sculptor Mary Engel (American, b.1963) is known for her whimsical animal forms that she covers with found objects such as watches, beads, buttons, and bullets. While many of these works have focused on dogs, she has expanded her repertoire over the past thirty years to include a range of creatures both domesticated and wild. At times this means advocating for animals "who cannot speak for themselves" as well as endangered species.[i] In these instances, Engel wants "to depict the animal as an individual, reveal their profound spirit, and call attention to the needs of its herd, pack, pod, or family."[ii]
The Kamm Collection has two sculptures by Engel: Lucky (1997) and Watch Dog Teapot (2003). These works, which are characteristically adorned with found objects, capture a familiar moment frozen in time. Initially, the dogs' body language and their rich surfaces grab your attention, but then Engel hopes you will use your own "imagination, belief system, and personal connections" to interpret her sculpture.[iii] To gain a better understanding of this artist and her works Lucky and Watch Dog Teapot, we decided to do an interview for this post. The following interview was conducted via email in November 2022.
Allie Farlowe: I read that as a child growing up in St. Charles, Illinois you were drawn to animals. Is this true and were there any early artistic interests?
Mary Engel: Yes, I have always loved animals. Childhood drawings and sculptures (papier-mâché and ceramic) were of dogs, cats, and pigs.
Allie Farlowe:  You received a B.S. degree in art from Illinois State University in Normal, Illinois and a M.F.A. from the University of Georgia in Athens, Georgia. From what I understand a transition occurred while you were working on your graduate degree. It appears that you shifted from making vessels with animal features to sculptural animal forms. Could you describe these early sculptures? What was the motivation behind this transition that seems to have laid the foundation for your work today?
Mary Engel: I entered graduate school as a functional potter using wood and salt kilns to get the subtle surfaces I desired. Many of the early teapots and covered jars had animals on the top. Fish and buffalo when I lived in Colorado, cows and dogs when I lived in Tennessee. The animals gradually got bigger (from 1-2 inches then 1-5 feet) and they became the most important aspect of what I wanted to share.  Eventually I left the vessels altogether.
Allie Farlowe:  The two works in the Kamm Collection are teapots. Do you frequently make teapots or are these rare examples?
Mary Engel:  Yes, though I made many teapots before grad school, at the time of the commission, it was an unusual but delightful challenge.
Allie Farlowe:  The sculpture Lucky is of a hound-like dog standing upright with its tail between its legs. The surface is covered with dice which are embedded into a dark clay body. Can you talk a little about the inspiration behind Lucky and the process of making a work such as this?
Mary Engel:  Sometimes I sculpt a piece then find the right surface, other times I'm at a flea market or rock and gem show and find a beautiful surface then build a piece to go under it. Dice are a favorite surface. This piece has a passive peaceful pose but a bright surface suggesting chance, luck, or fortuity.
Allie Farlowe:  Lucky and Watch Dog Teapot reflect a careful study of dog gestures and mannerisms. Do you work from sketches or is the process more intuitive?
Mary Engel:  I've always lived with several dog models. Over the years, the sculptures have changed depending on the silhouette of the beautiful mutts in my studio. I sketch on paper some but more often in clay. Small maquettes help me decide on postures for larger sculptures.
Allie Farlowe:  On your website you say that you frequently do commissions for individuals who want to incorporate family heirlooms or sentimental objects into the work. Watch Dog Teapot was also a commission. Could you share how this particular commission for the Kamms developed?
Mary Engel: Yes, I often use patron's objects to make a commissioned sculpture more personal.  Many of us have treasures and/or objects with sentimental value hidden away in drawers. I use the most meaningful pieces on the faces and shoulders then scatter the rest around the piece to be discovered over time. I believe the Kamms saw a watch dog sculpture in an exhibition at Hodges Taylor Gallery in Charlotte, NC. They liked the surface and title, so they commissioned me to make a 'watchdog' teapot in a playful pose. 
Allie Farlowe:  From what I understand you have a large collection of found objects in your studio that you pull from when you are creating these intricate mosaic-like surfaces on your sculptures. Are these materials primarily collected from flea markets and antique stores or do you have other resources?
Mary Engel: Yes, antique shops, flea markets and I'm always searching for found objects when traveling. I share images of my work with dealers and am often contacted about a big collection of watches, jewelry or one time 3000 ceramic poodles. Most recently I have been making hundreds of molds from small wood, ceramic, stone, or plastic animals, some that I've made or collected over the years. I had a commission to make an elephant covered with elephants during the pandemic and couldn't find enough pieces while the flea markets were closed. I found a few online but really like to visit the dealers and hold and see what I'm buying. The elephant commission turned into a dynamic change for me in surface possibilities. I can make any color animal figurine and have many choices of patinas. It's labor intensive but opened a new world of possibilities. I love the idea of covering animals with hundreds of animals referring to an interconnectedness we/they share.
Allie Farlowe: This past summer you spent time with the University of Georgia's studies abroad program in Cortona, Italy. This was not your first time in Italy, but was there anything that resonated with you during this trip?
Mary Engel:  I loved teaching for UGA [ the University of Georgia] in Cortona. One of my goals for the students was for them to figure out what they are most inspired by. We saw an incredible amount of incredible historical art all over Italy and contemporary art at the Venice Biennale. While traveling with other faculty I discovered the jewelry professor was looking at the same painting as me but noticing the figures adornments, necklaces, and rings. Another professor was interested in the architectural aspects of the composition, another the figures. I was inspired by the animals, sometimes just a couple inches tall in a 10-foot painting. Sharing this with a student, she said she was going to start noticing what she notices which is exactly the point! And then, making work that each of us is passionate about.
Allie Farlowe:  Thank you for taking the time to discuss your work with the Kamm Teapot Foundation.
Further Reading/Viewing:
Marcia Wood Gallery
_________________________________________
[i] Mary Engel, Statement via Email, 30 November 2022.
[ii] Mary Engel, Statement via Email, 30 November 2022.
[iii] https://www.maryengelsculpture.com/the-artist/, 7 November 2022.
Allie Farlowe is a metalsmith, jeweler, and independent arts writer. Her previous professional experience includes museum work in curatorial and registration departments.