Paul Storr (British, 1771-1844) has been called "the last of the great goldsmiths." [i] This reputation is rightfully deserved. During the late Georgian era Storr produced a vast array of designs in both silver and gold for the British royal family and other wealthy clientele. Ranging stylistically from "stark classicism to exuberant Rococo naturalism," these sophisticated forms demonstrate exceptional skill and attention to detail.[ii] It is certainly an impressive body of work that continues to be celebrated today, almost two hundred years after Storr's prolific career ended.
Early Development
Storr's family appears to have been an industrious lot. Many members "had established themselves among the ranks of prosperous tradesmen and high-end artisans."[iii] His father Thomas had been a silver-chaser. However, later in life he was an innkeeper as well as an active member of one of London's important trade guilds, the Vintners' Company. [iv] In 1784 Thomas apprenticed his son to fellow victualler William Rock, a freeman of the Vintners' Company.[v] Surprisingly, this arrangement appears to be only a "formality."[vi] The possible goal was to provide Storr with certain obtainable advantages and a strong foundation from which to build a career. In 1791, when he completed his apprenticeship, he became a freeman of the Vintners' Company. This meant that Storr could now carry on any trade within the city's jurisdiction, had powerful contacts, and was part of an organization that could help in times of "distress."[vii]
While apprenticing to William Rock, it seems Storr also worked for Swedish-born silversmith Andrew Fogelberg in London's Soho neighborhood. This was not a formal apprenticeship, but fortunately Storr did not need to follow a traditional path to practice this trade.[viii] Fogelberg would have provided "a good grounding in the specialized industrialization of the time."[ix] Remarkably, by 1792 Storr was confident enough to start branching out on his own. He briefly partnered with fellow silversmith William Frisbee and then, a year later, he settled into his own space in West London. It is from this location that Storr would establish himself "as one of [the city's] leading manufacturing goldsmiths."[x]
Many of the objects Storr initially created embraced the fashionable Neoclassical style. The forms were restrained featuring Greek and Roman motifs such as garlands, beading, rosettes, and scrolls. In essence, Storr captured in silver what Scottish architect and interior designer Robert Adam and his brother James had made the epitome of taste in the eighteenth century. Notable creations from this period include a gold christening font (1797) for the Duke of Portland as well as the Battle of the Nile Cup (1799-1800) which was made for Admiral Lord Nelson.[xi]
The Kamm Collection has a sterling silver teapot from the beginning of Storr's career. However, this work, which is dated 1794, lacks the "order, refinement, and seriousness" of the Neoclassical style.[xii] Instead, the rounded form with its s-shaped spout is covered in relief imagery. Figures, buildings, trees, a boat floating on water, and a floral motif decorate its surface while a large flower finial rises from its lid. This Storr work gives us a glimpse of the other stylistic preferences prevalent in the eighteenth century. While utilizing Neoclassical motifs were popular, additional aesthetics such as chinoiserie and Rococo were also appreciated. In 1785 Horace Walpole, the well-known writer and politician, openly criticized "Mr. Adam's gingerbread and sippets of embroidery" claiming it "out of tune with the age."[xiii] Furthermore, in 1800 even King George III is quoted as saying that "the Adams [had] introduced too much of neatness and prettiness."[xiv]
Rundell, Bridge, & Rundell
After approximately eleven years on his own, Storr joined the firm of Rundell, Bridge, & Rundell.[xv] This prestigious firm served as the official Royal Goldsmiths, a position they held from 1797-1843. This meant they were responsible for the jewelry as well as any tableware or presentation pieces needed by the royal family.
The historian Norman Penzer suggests that Storr had been actively recruited by Philip Rundell, but only agreed to the arrangement if he could keep his identity.[xvi] It is unclear if this is accurate. However, records indicate that indeed a new venture was launched called Storr & Company with the support of Rundell, Bridge, & Rundell.[xvii] In the coming years this establishment, which was based in London's Soho area, was kept extremely busy. Storr essentially became a supervisor in a "mass production workshop" that created elaborate luxurious objects for the British elite.[xviii] The demand for "silver and silver-gilt opulence" was so high that Rundell, Bridge, & Rundell was supplied ten thousand ounces of wrought silver a month.[xix] While it must have been an honor to create grand prestigious works such as George IV's Theocritus Cup, Storr made the decision, for an unknown reason, to resign in 1819.
Storr & Mortimer
Storr worked independently for only a few short years supplying finished silver to competitors of Rundell, Bridge, & Rundell. However, by 1822 records indicate he had partnered with John Mortimer. Mortimer, who had experience at another goldsmithing and jewelry shop, handled the retail side of the business while Storr took care of the manufacturing.[xx] In 1826 they took on another partner, John Samuel Hunt, after Mortimer's mismanagement and a robbery almost brought them to the brink of ruin.[xxi] This arrangement proved to be profitable even though there seemed to be "constant disputes" between the original partners.[xxii]
The Kamm Collection has two teapots from this latter portion of Storr's career. One is from 1837 and the other, which bares the Storr & Mortimer mark, is from 1838-39. Both forms have segmented bulbous bodies, ivory inserts in their c-shaped handles, and embellishments inspired by nature. However, the earlier version, which embraces the William IV style, rests on a chased stand while the later example, which feels more Victorian, sits upon four curled feet.[xxiii] The teapot with the Storr & Mortimer mark also contains an engraved crest of arms and a large finial with a thistle and foliage.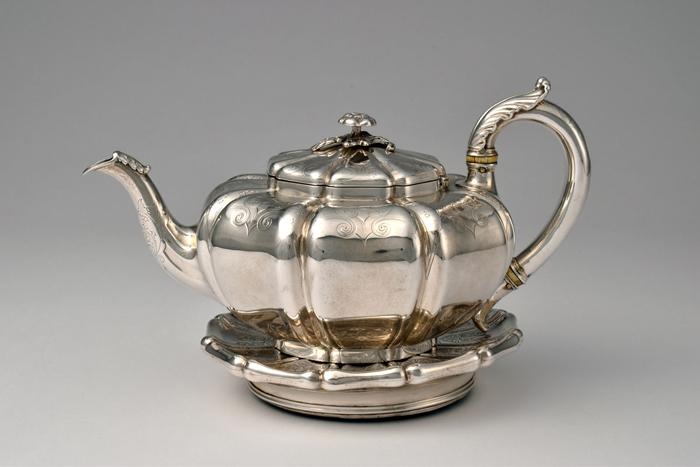 The 1830s appear to be a productive time for Storr & Mortimer. While some works, like these two teapots in the Kamm Collection, were more reserved, much of the work feels monumental, sculptural, and highly ornate. Inspiration continues to come from nature. However, stylistically they embrace an "eclectic" mix that includes a revival of Rococo's "ornamental and theatrical" approach and the purely classical.[xxiv] During the 1830s Storr & Mortimer also experienced a demand for objects not usually made in precious materials. Some of these oddities include a reproduction of a stoneware jug as well as a silver mounted horse hoof inkwell.
On December 31, 1838, at sixty-eight years old, Storr retired. It appears his relationship with "Mortimer had become strained."[xxv] He spent his final years with his wife Elizabeth at their home in Tooting, an area in South London. Presently the British Royal Collection, which includes works from places such as Windsor Castle and Buckingham Palace, has more than a thousand pieces of metalwork credited to Paul Storr. While many of these objects are reserved for exhibitions, some of the tableware continues to be used for special occasions.
Further Reading/Viewing: 
Clark, Mark A.  Paul Storr Silver in American Collections.  Indianapolis Museum of Art/Dayton Art Institute, 1972.
Hartop, Christopher.  Art in Industry: The Silver of Paul Storr.  Cambridge:  John Adamson, 2015.
Moss, Morrie A.  The Lillian and Morrie Moss Collection of Paul Storr Silver.  Miami, FL:  Roskin Book Productions, Inc., 1972.
Penzer, N.M.  Paul Storr 1771-1844 Silversmith and Goldsmith.  London:  Spring Books, 1954.
_________________________________________________________________
[i] N.M. Penzer, Paul Storr 1771-1844 Silversmith and Goldsmith, (London:  Spring Books, 1954), 19. Storr is considered a silversmith and/or goldsmith. During his lifetime, goldsmiths also did the work of a silversmith. Essentially, a goldsmith worked in gold and other precious metals.
[ii] https://rauantiques.com/blogs/canvases-carats-and-curiosities/paul-storr-and-his-artistic-style, 28 June 2021.
[iii] Christopher Hartop, Art in Industry:  The Silver of Paul Storr, (Cambridge:  John Adamson, 2015), 21.
[iv] A silver-chaser was responsible for the ornamental work using a hammer and punch within the silver shop. This would include all chasing, embossing, and repoussé.
[v] In England, a victualler is another term for an innkeeper. A victualler is also a person who is licensed to sell alcohol, food, or other provisions.
[vi] Hartop, 21.
[vii] Hartop, 21.
[viii] Storr did not need to be a freeman of the Goldsmiths' Company to register a maker's mark and work as a goldsmith and/or silversmith.
[ix] Hartop, 24.
[x] Penzer, 58. After his partnership with Frisbee, Storr might have bought Fogelberg's business. He used Fogelberg's address when he registered his own mark in 1793. In 1796 Fogelberg retired. Storr also had an ongoing partnership with Peter Bogaerts, a carver and engraver. This ended in 1822.
[xi] Nelson called this his Turkey Cup. It was given to Nelson to celebrate his resounding victory over Napoleon's fleet off the east coast of Egypt in 1798.
[xii] https://www.vam.ac.uk/collections/rococo, 12 July 2021.
[xiii] Penzer, 20.
[xiv] Penzer, 20.
[xv] Philip Rundell, John Bridge, and Edmund Waller Rundell (Phillip's nephew) were partners beginning in 1806. Storr joined the firm in 1807 and some sources suggest he eventually became a partner as well. Evidence also suggests that Storr was already producing works for Rundell, Bridge, & Rundell prior to officially joining the firm. This work would have been contracted out to him.
[xvi] Hartop, 14.
[xvii] Storr & Company was associated with Rundell, Bridge, & Rundell as well as the artist William Theed.
[xviii] Penzer, 60.
[xix] Hartop, 14.
[xx] Mortimer worked at Robert Gray's shop (1768-1821) as his principal assistant or shopman.
[xxi] John Samuel Hunt was a relation of Storr's. He is described as the son of his sister-in-law.
[xxii] Penzer, 64.
[xxiii] William IV reigned from 1830-1837. The silver during this period was at times bold and extravagant. After William IV's death his niece Victoria took the throne. Queen Victoria ruled from 1837-1901. Silver during her lifetime was at times ornamental, incorporated a range of styles, and revealed many new technical developments.
[xxiv] Hartop, 112. https://www.vam.ac.uk/articles/the-rococo-style-an-introduction#slideshow=74976771&slide=0, 12 July 2021.
[xxv] Hartop, 121.