American artist Beth Lipman (b. 1971) is best known for her clear glass installations inspired by European and American still lifes. These works explore aspects of our material culture and address concepts such as "mortality, consumerism, materiality, and temporality."[i] Utilizing a range of techniques, Lipman creates identifiable scenes that range from a grouping of displayed fruit to an elaborate laid table after a boisterous dinner party. Her goal with these installations is to capture a moment in time. However, Lipman's opulent compositions can also draw parallels between different points in history, ultimately connecting the past to the present. 
Craft Beginnings
Lipman grew up in rural Pennsylvania, specifically Lancaster County an area known for its Amish settlements. Her father worked in sales and the restaurant industry, and her mother was a self-taught painter who collected "hoards of books on still lifes as well as Pennsylvania Dutch folk art."[ii] Lipman did not realize it at the time, but the exposure to these books would have an impact. In essence, it was "some of the first still life imagery that…impregnated [her] brain…"[iii] While Lipman never felt pressured to follow in her mother's footsteps, she was offered many opportunities to explore her creative interests. One of those opportunities was a summer camp at Horizons: The New England Craft Program.[iv] It was through this program that Lipman "found her voice" and was first exposed to blowing glass.[v]
For college Lipman decided to attend Massachusetts College of Art and Design in Boston, but eventually transferred to Tyler School of Art and Architecture in Philadelphia.[vi] This transfer allowed her to focus on glass and fiber, two materials whose qualities appealed to her. Lipman's glass during this period is closely connected to her later work. At school, she explored "food as a metaphor for consuming, desire, [and] consequence."[vii] For Lipman, food has always been an "obsession."[viii] This attraction can be traced back to childhood when her mother would take her on trips to "different points of interest in food culture."[ix] For instance, in New York City they would get gourmet fare at the infamous Zabar's or treat themselves to H & H Bagels. Lipman believes it was this passion for food that ultimately "kind of led [her] into still life."[x]
After graduating from Tyler in 1994 with a Bachelor of Fine Arts degree, Lipman juggled various jobs. For example, she worked with a textile conservator at the Barnes Foundation in Philadelphia and shortly afterwards she was Deborah Czeresko's teaching assistant at UrbanGlass in Brooklyn, New York.[xi] Lipman would continue her tenure at UrbanGlass as their Director of Education, a position she assumed in 1997. Working at this active glass center allowed her to "meet pretty much everyone in the glass field that [she] ever wanted to meet."[xii] The exposure was eye opening and important to her development as an artist. Throughout these formative years, Lipman continued to maintain her own studio in the Brooklyn area where she experimented with topics such as memory.
Still Life
In 2000 an opportunity came along that changed the direction of Lipman's work. UrbanGlass' Director John Perreault invited her to participate in an exhibition called Glass Works:  Emerging Artists. For this exhibition, which was co-organized with the Brooklyn Museum, each contributor was asked to select a work from the museum's permanent collection and make a piece in response to it. Lipman chose the Victorian-era painting called Still Life with Fruit (1855) by Severin Roesen. She created a clear glass sculpture, also called Still Life with Fruit,  that "pay[ed] homage" to its predecessor.[xiii] While Lipman "felt that [this work] was interesting," she says "[she] had no understanding of whether or not [it] would be something."[xiv] Fortunately, she decided to continue to pursue this new path which has been "completely engaging" to her as an artist.[xv]  
Since Still Life with Fruit, Lipman has continued to explore the many facets of the still life genre. Initially she found inspiration in seventeenth century Dutch paintings that featured overflowing platters of food, drink, or game. Lipman drew parallels between that era, which is considered the Dutch Golden Age, and American capitalist society. She was fascinated by the consumerism and "the display of wealth and status within objects" during these two periods of prosperity. Later, Lipman became interested in vanitas, a type of still life that includes "symbolic objects designed to remind the viewer of their mortality and of the worthlessness of worldly goods and pleasures."[xvi] She views these works as portraits of individuals, institutions, or our society.
In 2003 Lipman created an "early tour de force" called Bancketje (Banquet).[xvii] Made with the help of fifteen glassblowers, the still life contains four hundred blown and flameworked colorless glass components, including some with gold leaf accents.[xviii] It depicts the aftermath of a gathering. Strewn across a twenty-foot-long oak table, Lipman presents an array of items such as historically inspired dinnerware, leftover morsels of food, overturned goblets, and snuffed out candles. As you examine this opulent scene, "you can almost feel the carnival spirit of a raucous banquet…you can imagine the excesses of all the moments through the ages when prosperous people, throwing off all restraint, have come together to celebrate."[xix] Works such as Bancketje "hold up a mirror to society" and challenge viewers to contemplate frivolity as well as the transience of their life.[xx]
Kamm Collection
In Chicago at the 2008 Sculpture Objects Functional Art and Design fair (SOFA) the Kamms had a conversation with Lipman about the creation of a sculpture.[xxi] After their meeting, she made Tea Set (for Rachel and Maria) which the Kamms happily acquired from Heller Gallery at SOFA the following year. The acquisition of this work was special since Lipman does not typically utilize the teapot form in her oeuvre. The arrangement, which is made of blown, slumped, and hand sculpted clear glass, includes a nonfunctional teapot, six cups and saucers, and three spoons all assembled on an oval-shaped tray.[xxii]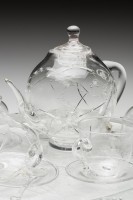 Tea Set (for Rachel and Maria) is a somewhat reserved piece compared to Lipman's other compositions. However, this simple still life with its colorless objects almost hauntingly reminds us of the long rich history of tea, the ritual of tea drinking, and how this tradition manifests itself today. Lipman dedicated the tea set to her twin daughters Rachel and Maria with whom she had a very difficult pregnancy. These difficulties appear to be symbolically alluded to in the many imperfections found in the work. The glass contains bubbles, cracks, and drips which are intentional. In fact, Lipman purposely broke components of the work and then "healed" them with adhesive during the process of making the piece.[xxiii] Instead of seeking perfection, she often embraces these imperfect qualities. When Lipman was working on Bancketje, she gave her fellow glassblowers, of varying experience levels, two tries to create an object from a xeroxed image of a laid table still life. In the end, if that meant including a broken item that fell on the floor, then so be it. In taking this approach the forms became spontaneous reflections that not only record the moment of their making, but also the mindset of the person who made them.[xxiv]
As you study a work like Tea Set (for Rachel and Maria) "you can see it, but you're also seeing through it. You can own it, but you can't really visually own it."[xxv] While Lipman has utilized black or white glass as well as other mediums such as photography, she predominately has relied on clear glass. She likes the fact that the colorless glass "really frustrates the eye."[xxvi] For Lipman this is a significant concept. With her clear glass installations, she likes to create "that perpetual frustration" which in turn keeps her audiences engaged.[xxvii]
Recent Activity
From her studio located in Sheboygan Falls, Wisconsin, Lipman continues to push her work in new directions and evolve as an artist. In the fall of 2021 she completed a site responsive installation called The Ravelled Edge for the windows of the Nohra Haime Gallery in New York.[xxviii] Made of glass, clay, wood, metal, and fresh cut flowers, these works invite pedestrians to contemplate "the transitional moment we are in, on the precipice of an existential threat of climate change."[xxix] Also, currently Beth Lipman:  Collective Elegy is on view at the Museum of Arts and Design in New York through January 2, 2022. This exhibition, which is described as "part retrospective, part look forward," is the first museum survey of Lipman's career. [xxx]
Allie Farlowe is a metalsmith, jeweler, and independent arts writer. Her previous professional experience includes museum work in curatorial and registration departments.
Further Reading/Viewing:
2018 American Craft Council Fellow.  2 October 2018.
Glass Artist Beth Lipman.  Craft in America.  30 October 2014.
Milwaukee PBS:  The Arts Page.  16 March 2018.
Moody, Andrea, Melissa G. Post, Anders Stephanson.  Glimmering Gone: Ingalena Klenell and Beth Lipman.  Tacoma, WA:  Museum of Glass, 2011. 
Oral History Interview with Beth Lipman.  Smithsonian Archives of American Art.  18 and 19 September 2012.
Samantha De Tillio.  Beth Lipman Collective Elegy.  New York, NY:  Museum of Arts and Design.  2020.
__________________________________________________
[i] https://www.nohrahaimegallery.com/beth-lipman.html, 25 October 2021.
[ii] https://www.cmog.org/transcript/meet-artist-beth-lipman, 26 October 2021.
[iii] https://www.cmog/transcript/meet-artist-beth-lipman, 7 November 2021.
[iv] Horizons:  The New England Craft Program is now Snow Farm:  The New England Craft Program.
[v] Oral History Interview with Beth Lipman, Smithsonian Archives of American Art, 18 and 19 September 2012.
[vi] Tyler School of Art is part of Temple University in Philadelphia, PA.
[vii] https://www.cmog/transcript/meet-artist-beth-lipman, 7 November 2021.
[viii] https://www.cmog.org/article/beth-lipman-still-life-glass, 10 November 2021.
[ix] https://www.cmog.org/article/beth-lipman-still-life-glass, 10 November 2021.
[x] https://www.cmog.org/article/beth-lipman-still-life-glass, 7 November 2021.
[xi] Lipman first met Deborah Czeresko at Tyler. She had been a visiting artist there. The UrbanGlass class that Czeresko was teaching was a joint class with New York University.
[xii] Oral History Interview with Beth Lipman, 18 and 19 September 2012.
[xiii] https://blog.cmog.org/2016/01/16/celebrating-the-studio-beth-lipman/, 7 November 2021.
[xiv] Oral History Interview with Beth Lipman, 18 and 19 September 2012.
[xv] Oral History Interview with Beth Lipman, 18 and 19 September 2012.
[xvi] https://www.tate.org.uk/art/art-terms/v/vanitas, 7 November 2021.
[xvii] De Tillio, 16.
[xviii] Bancketje was the first time that Lipman created a work with other glassblowers.
[xix] "Beth Lipman Fellow," American Craft, October/November (2018), 45.
[xx] Oral History Interview with Beth Lipman, 18 and 19 September 2012.
[xxi] SOFA Chicago is now called Intersect Chicago.
[xxii] The tray is made of slumped glass. The spoons are hand sculpted. Everything else in the tea set is blown glass.
[xxiii] Beth Lipman, Email to Allie Farlowe, 14 November 2021.
[xxiv] https://www.cmog.org/article/beth-lipman-still-life-glass, 10 November 2021.
[xxv] https://www.cmog.org/article/beth-lipman-still-life-glass, 7 November 2021.
[xxvi] https://www.cmog.org/article/beth-lipman-still-life-glass, 7 November 2021.
[xxvii] https://www.cmog.org/article/beth-lipman-still-life-glass, 7 November 2021.
[xxviii] The Ravelled Edge was on view from September 2 through November 7, 2021.
[xxix] https://www.nohrahaimegallery.com/past–ravelled-edge.html, 11 November 2021.
[xxx] De Tillio, 13.