This teapot was decorated by the renowned porcelain painter William Billingsley (British, 1758-1828). Billingsley began his career working for Royal Crown Derby, though later worked for many other manufacturers, as well as his own pottery factory at one time, and his own decorating business in Mansfield, Nottinghamshire for a time as well. Billingsley was especially well known for his skill in painting naturalistic roses, such as those seen on this teapot, as well as detailed landscapes and ornate gilt designs.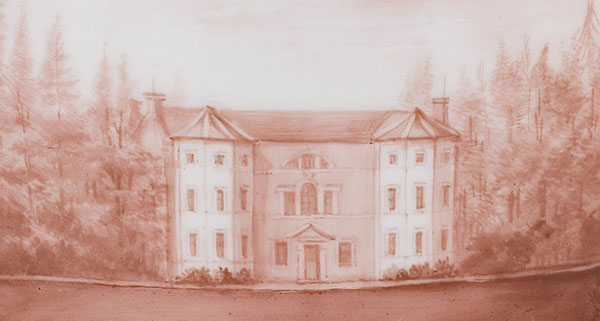 This teapot was most likely commissioned by the Hall family while Billingsley was working in Mansfield from 1799 to 1802, though it may have been painted later, and depicts their family home, Park Hall, in what is now Mansfield Woodhouse, Nottinghamshire. Though the house in the picture is not labeled on this teapot, it matches the appearance of the Park Hall house, which is still standing, as well as an image on a porcelain saucer also painted by Billingsley, which is labeled "A view of Park Hall Notts." Fine porcelain of this kind, depicting large estates and beautiful landscapes, were a prized luxury good at this time and served as a status symbol for affluent families. This teapot was most likely commissioned as part of a full tea service, with a tray, sugar bowl, creamer, and other objects.
The manufacturer of this teapot is unknown, and may have been purchased by Billingsley from a local porcelain manufacturer in Mansfield, or in Brampton-in-Torksey, where Billingsley lived and worked from 1803 to 1808. The shape of this teapot is identical to another teapot painted by Billingsley, which is labeled "decorated at Torksey," and now resides in the Usher Art Gallery in Lincoln, England.
Further Reading:
"A look at some talented Royal Crown Derby Artists." Antique Marks.
Works by William Billingsley in the Victoria & Albert Museum collection.
An Illustrated Encyclopedia of British Pottery and Porcelain by Geoffrey A. Godden Pgs. 244, 257, 314. Crown Publishers. New York, 1966.