A still life is a work of art that features an arrangement of inanimate objects either natural or man-made.[i] While people have depicted their food, foliage, and vessels since antiquity, the art form did not fully begin its development into an independent genre until the Renaissance. It was during this era that Italian painter and engraver Jacopo de' Barbari created Still Life with Partridge and Gauntlets (1504). This small trompe I'oeil work is considered by many to be the first actual depiction of this style of painting. Still lifes truly flourished during the Dutch Golden Age. It was a time of great prosperity in the Netherlands and these renderings provided an opportunity to display this wealth. From this point onward, the still life was no longer considered "an occasional curiosity."[ii] Instead, it was a readily practiced genre of painting among the visual arts.
The Kamm Teapot Foundation has numerous examples of still lifes in its collection. These works, of course, predominately feature teapots among their subject matter. This blog post will look at examples by four of those artists: Janet Rickus, George Van Hook, Walt Kuhn, and Mary Fedden.
JANET RICKUS (American b. 1949)
The Massachusetts-based painter Janet Rickus has been described as a classicist.[iii] However, upon closer investigation, her vivid canvases undeniably put a fresh spin on this approach to painting. Using typical objects found in still lifes, Rickus meticulously and realistically paints what she sees in actual size with little to no modifications. Yet, there are elements, such as the use of bold saturated color and the simplicity of her compositions, that are contemporary in origin. Rickus believes that "still lifes have life, a connection to people and nature…It's not simply painting objects…The fruits and vegetables, beautiful in their own rights and often with evocative shapes, allow [her] to bring observations of life to the paintings."[iv]
The Rickus oil painting in the Kamm Collection is called Teapot Tangle (2009). It features two teapots, one green and the other white, that are connected by intertwined teabag strings. The forms rest on a table or shelf which is covered in crisp blue and white linens. This is a typical arrangement for Rickus. She places the objects at eye level with a neutral background. Then, utilizing natural light Rickus precisely captures the color, shape, texture, and shadows of her subjects. In addition, in Teapot Tangle the vessels are positioned in a way where they seem to almost speak to each other. This intimate relationship is intentional. Rickus frequently creates this very human dynamic in her imagery. 
GEORGE VAN HOOK (American, b. 1954)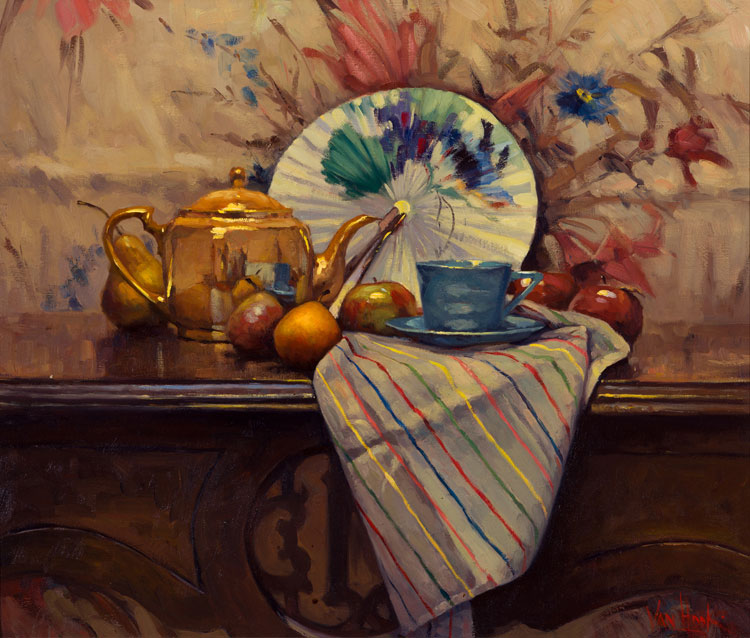 George Van Hook started painting landscapes at a young age in rural Bucks County, Pennsylvania.[v] This is an area known for its vibrant arts scene as well as its association with the Impressionist movement.[vi] Without a doubt, these early experiences have had a lasting impact on Van Hook. Currently he has a studio in the Hudson River Valley. From this idyllic location, Van Hook focuses on plein air landscapes as well as still lifes and figurative work. As you study his oeuvre you see the continued influence of Impressionism and the impact of artists such as William Merritt Chase or John Singer Sargent. With his paintings, Van Hook "wants the color to be beautiful and the drawing firm and secure."[vii] He says that "the experience of seeing is the most important part of the process. [Van Hook's] aim is to translate that experience onto the canvas."[viii]
The Kamm Collection has a Van Hook painting called Still Life with Chinese Fan (1987-89). This centralized arrangement, which is displayed on a wooden table, includes not only a Chinese fan, but fruit, a cup with a saucer, and a glimmering golden teapot. Most of these objects are positioned on top of a striped piece of cloth. There is a looseness in the brushstroke which is particularly evident in the flowers that peek out from behind this grouping. The use of color and light gives this work not only a sense of energy, but it balances the composition as well. In essence, Van Hook effectively captures the beauty of an intimate moment in time.
WALT KUHN (American, 1877-1949)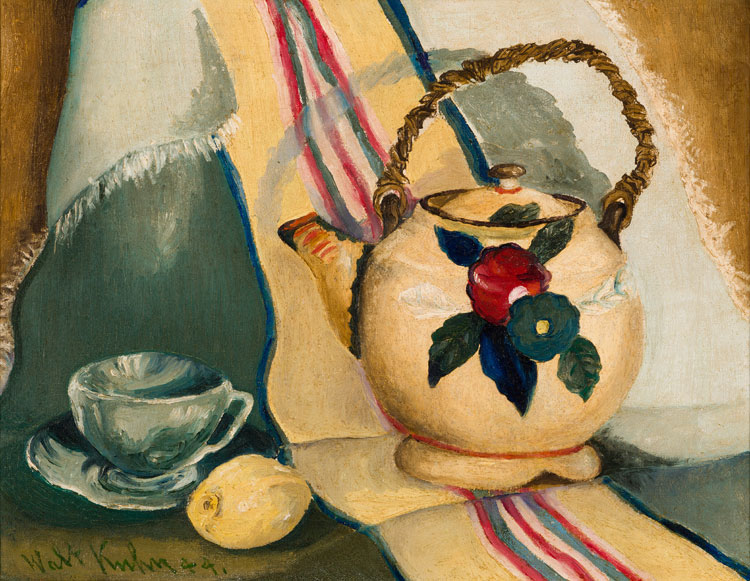 The Brooklyn born painter Walt Kuhn is probably best known as one of the organizers of the 1913 Armory Show in New York City that introduced modernism to America.[ix] However, he was also an innovative artist who feverishly experimented with different materials as well as numerous styles such as Cubism and Fauvism. After a brush with death in 1925, Kuhn finally developed a distinct style of his own. These striking works presented colorful characters from vaudeville, the circus, or even the burlesque stage. This new direction began with the austere geometric painting The White Clown (1929) which "quickly became one of the better-known modern American masterpieces."[x] For Kuhn, a successful painting "should seem as effortless and inevitable as a tight-rope act where a performer occasionally pretends to lose his balance, just to show how difficult, even dangerous, it really is."[xi]
While Kuhn is more often associated with his portraits, he consistently painted still lifes over the course of his career. He used these pieces as an opportunity to explore "a variety of painting styles derived from European influences."[xii] Still Life (1944), within the Kamm Collection, focuses on a small group of objects: a simple cup and saucer, a lemon, and a teapot with a floral design. A draped striped piece of fabric serves as the backdrop and then flows underneath these items. The lines on the fabric run diagonally across the canvas which helps draw the eye inward. As you study how the objects are arranged, the color, and the expressiveness of his brushstrokes, it is hard to not see the influence of French artist Paul Cézanne. In truth, Cézanne impacted not only Kuhn's canvases. He also followed some of his "prime teachings" which led him to be hyper-critical of his own work.[xiii] During the 1940s, when the Kamm's painting was created, Kuhn's health had begun to deteriorate. By 1948 he was institutionalized.
MARY FEDDEN (British, 1915-2012)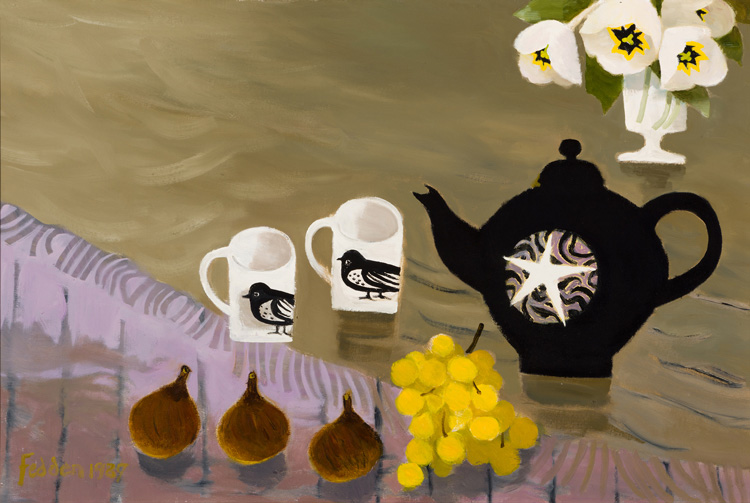 Mary Fedden "describe[ed] painting as, more than anything else, a 'passion.'"[xiv] As a child growing up in Bristol, England, she had early "artistic ambitions."[xv] Fedden knew she was "going to be a painter."[xvi] By the age of seventeen she was attending the Slade School of Art in London on scholarship. There, Fedden was particularly inspired by her Russian theatre design professor Vladimir Polunin and his use of "bold, vivid color and lively pattern."[xvii] However, over the course of her career she "really float[ed] from influence to influence."[xviii] You see the impact and appreciation of seventeenth century Dutch still lifes as well as the work of artists such as Ben Nicholson or Christopher Wood.
Fedden devoted most of her time to still life painting.[xix] Her works are known for their simple shapes, vibrant, contrasting colors, a flattened perspective, and a somewhat naiveté feeling. Her oil on canvas in the Kamm Collection, entitled Black Teapot (1989), reflects these qualities. This work contains a selection of fruit, two matching white mugs with a black bird design, a white vase with white tulips, and a black teapot decorated with a white star. For Fedden, still lifes, such as Black Teapot, "[had] no symbolic or emblematic associations."[xx] She wanted her casual groupings of familiar objects to be "what they are."[xxi] However, Fedden's work is not that simplistic. This is a prolific artist who spent a lifetime investigating form, color, and pattern. For Fedden, "each painting [was] a new attempt and a new view."[xxii] Her contributions to the art world did not go unnoticed. Fedden was elected a Royal Academician in 1992 and received an OBE (Order of the British Empire) by Queen Elizabeth in 1997.[xxiii]
Further Reading/Viewing:
Adams, Philip Rhys.  Walt Kuhn, Painter.  Columbus, Ohio:  Ohio State University Press, 1978.
Andreae, Christopher.  Mary Fedden:  Enigmas and Variations.  Hampshire, England:  Lund Humphries:  2007.
Gallery Henoch – Janet Rickus.
Lily Pad West Virtual Gallery Night July 2020:  George Van Hook.
Steadman, William E.  Painter of Vision:  A Retrospective of Oils, Watercolors, and Drawings by Walt Kuhn 1877-1949.  Tucson, AR:  University of Arizona Art Gallery, 1966.
The Art of Mary Fedden. Artwork Films.  4 March 2010.
__________________________________
[

i

] The English term still life is derived from the Dutch term

stilleven.
[ii] https://electriclight.co/2021/05/07/still-life-history-1-birth-of-a-new-genre/amp/, 14 February 2022.
[iii] Gail Leggio, "Exhibition Gallery Henoch," American Arts Quarterly, Winter 2016, 43.
[iv] https://www.bernayfineart.com/artists/janet-rickus, 15 February 2022.
[v] George Van Hook was raised in a suburb of Philadelphia, but his family had a farm in Bucks County, Pennsylvania.
[vi] Bucks County was home of the Pennsylvania Impressionist Movement as well as an arts colony called the New Hope Arts Colony. Many artists flocked to this area of the county around the beginning of the twentieth century. The Pennsylvania Impressionist Movement is also known as the New Hope School or the Pennsylvania School.
[vii] https://susanpowellfineart.com/artist/george-van-hook, 16 February 2022.
[viii] https://susanpowellfineart.com/artist/george-van-hook, 16 February 2022.
[ix] The Armory Show is also known as the International Exhibition of Modern Art. It included representative works from avant-garde artistic movements in Europe.
[x] Philip Rhys Adams, Walt Kuhn, Painter, (Columbus, Ohio:  Ohio State University Press, 1978), 117.
[xi] William E. Steadman, Painter of Vision:  A Retrospective of Oils, Watercolors, and Drawings by Walt Kuhn 1877-1949, (Tucson, AR:  University of Arizona Art Gallery, 1966), 13.
[xii] https://www.christies.com/en/lot/lot-6344139, 17 February 2022.
[xiii] Steadman, 13.
[xiv] Christopher Andreae, Mary Fedden:  Enigmas and Variations, (Hampshire, England:  Lund Humphries:  2007), 8.
[xv] Andreae, 61.
[xvi] Andreae, 61.
[xvii] Fedden was at the Slade School of Art in London form 1932-1936.
[xviii] https://portlandgallery.com/artists/fedden-mary, 21 February 2022.
[xix] Fedden also taught art. From 1958-1964 she taught at the Royal College of Art and was the first female tutor in the painting school. Her pupils included David Hockney and Allen Jones.
[xx] Andreae, 120.
[xxi] Andreae, 120.
[xxii] Andreae, 50.
[xxiii] When you become a Royal Academician, you become a member of the Royal Academy of Arts. The Royal Academy of Arts is an art institution based in Burlington House on Piccadilly in London. Founded in 1768, it has a unique position as an independent, privately funded institution led by eminent artists and architects. https://en.wikipedia.org/wiki/Royal_Academy_of_Arts, 21 February 2022.
Allie Farlowe is a metalsmith, jeweler, and independent arts writer. Her previous professional experience includes museum work in curatorial and registration departments.