Yixing is a city, a type of clay, and a style of pottery.[i] The city of Yixing is located on the Yangtze River Delta in the Jiangsu providence of China. It is considered the country's pottery capitol as well as the birthplace of the teapot.[ii] The fine-grained Yixing clay from this region, which is often referred to as zisha or purple sand, has been utilized by the local potters to create handmade high-fired stoneware teapots since the Ming dynasty (1368-1644).[iii] These unglazed, balanced, and unassuming vessels in earthy shades of reddish-purple and green are revered. Initially, these creations were valued in China because the "…color, fragrance, insulation, and taste of tea were said to be enhanced by the Yixing ceramic body."[iv] However, over time these forms have become impactful on a larger scale. In fact, they have "influenced the aesthetics and design of ceramics worldwide." [v]
Ancient Yixing masters and the "Chinese intelligentsia" introduced a set of standards for teapots and tea making which are still followed by some potters today.[vi] These standards considered not only the "design and proportions" of a teapot, but also details such as the "exact arc that tea should take from the spout to cup when being poured."[vii] In essence, Yixing pottery combined an "intelligent debate about the aesthetics of the teapot" and "a respect for maker, materials, and process" with "a long tradition of craftsmanship, a reverence for utility," and "a love of tea."[viii]
British and Dutch traders were responsible for bringing Yixing teapots to Europe. These vessels were imported in a limited number perhaps with the arrival of the first tea. However, no matter the quantity, their presence made an impression. These Yixing wares were the paradigm that inspired teapot design in the seventeenth and eighteenth centuries.[ix] Factories in Delft, Meissen, and Staffordshire were soon copying these forms. This influence has continued. In the last quarter of the twentieth century Yixing pottery "experienced a renaissance," particularly in the American West.[x]
Sonny and Gloria Kamm have acquired numerous Yixing ceramic teapots including examples by Richard Notkin, Ah Leon, Jeroen Bechtold, Kathryn McBride, and Kathryn Stovall Dennis. For the purposes of this blog post focus will be placed on Gerald Gulotta and Lu Wen Xia who are also represented in the collection.
Gerald Gulotta (1921-2018)
Gerald Gulotta was an American industrial designer and an influential teacher at the Pratt Institute in Brooklyn, New York. Over the course of his career he created a variety of functional objects in a range of materials. Some of Gulotta's designs include sterling silver flatware, fiberglass furniture, lead-crystal glassware, and lines of melamine and porcelain dinnerware. Collectively his work is known for its "simplicity and elegance."[xi]
After serving in the U.S. Army during World War II, Gulotta enrolled at Pratt. There he studied under famed designer Eva Zeisel and revered professor Alexander Kostellow who is known as the "father of industrial design education" and the creator of the Experimental Design Laboratory.[xii]  Following his graduation in 1950, Gulotta briefly worked for designers Raymond Loewy and George Nelson. However, these engagements were short-lived. In 1955 he replaced retiring professor Eva Zeisel as ceramics instructor at Pratt and later, he also taught industrial design.[xiii] When Gulotta was not teaching, he acted as an education consultant and operated his own practice in New York. Some of his clients included Block China Corporation, Steuben, Royal Doulton, Dansk International, Tienshan, Inc., and Atlantis Cristasia de Alcobaca, S.A.
In 1987 Gulotta was invited by the China National Arts and Crafts Corporation to design an "exclusive collection of miniature stoneware Yixing teapots."[xiv] Seven of these teapots were selected for a limited-edition production at the Violet Sand Factory. [xv] Within the Kamm Collection there are five teapots from this collaboration. These are small, humble, unglazed vessels with soft curves and sweeping lines. Visually they are certainly "exquisite."[xvi] However, it appears these forms did not meet the Yixing standards for functionality and therefore did not receive complete approval from their maker. Examples of these Gulotta teapots can also be found at the Cooper-Hewitt, Smithsonian Design Museum in New York City and the Victoria and Albert Museum in London.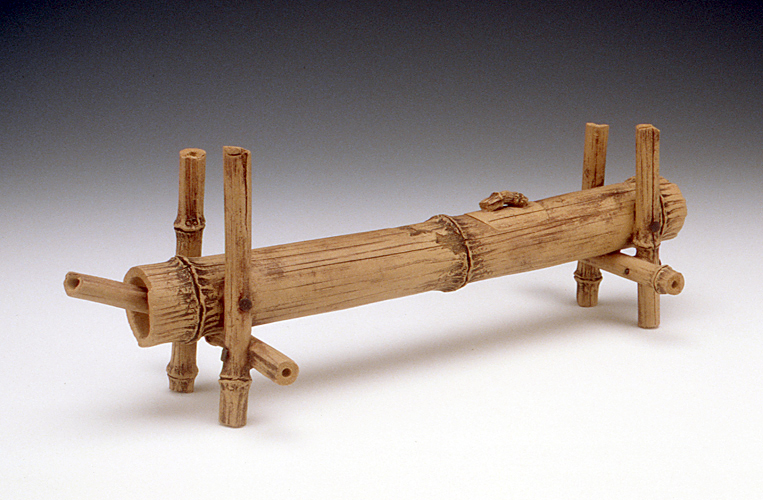 Lu Wen Xia (b. 1966)
Chinese artist Lu Wen Xia has received international attention for her innovative collection of Yixing teapot designs. Many of these ceramic works are fashioned utilizing the trompe l'oeil technique. The vessels, which often mimic surfaces such as wood, cardboard, woven baskets, and bamboo, reflect Xia's eye for detail as well as her ingenuity and craftsmanship.
Xia studied under the acclaimed masters Jiang Rong, Xu Xiu Tang, He Dao Hong, and Li Chang Hong.[xvii] In 1992 she and her husband, sculptor and teapot artist Lu Jian Xing, set up "The Sun and Rain Art Studio."[xviii] At times, she has been known to collaborate with her husband. While working with Xing or alone, Xia is constantly reinventing herself and evolving as an artist. She is considered one of the stars of this more recent generation of Yixing potters. Xia's work is featured in the collections of the National Museum of China in Beijing and the Museum of Fine Arts, Houston.
The Kamm Collection has an example of Xia's work called Bamboo Bridge. This sculptural stoneware design falls into a category of Yixing teapots that has a long history. Frequently makers have modeled their forms after organic objects such as vegetables or fruit. Here, Xia has carefully replicated stalks of bamboo that have been cut and fastened together with faux nails. She has embraced the crevices and cracks of the bamboo as well as how this material would respond to human interference. For example, Xia simulates the splintering that would occur at the end of a bamboo stalk when cut. Also, with works like this one, she is known to embrace growth deformities, deterioration, and abrasions. These inclusions reveal how intensely Xia studies her subject matter and her masterful ability to make realistic creations that truly fool the eye.
Further Reading/Viewing:
Clark, Garth.  The Artful Teapot.  London:  Thames & Hudson, 2001.
Kerr, Rose and Luisa E. Mengoni.  Chinese Export Ceramics.  London:  V & A Publishing, 2011.
Pan, Chunfang.  Yixing Pottery:  Purple Clay and the World of Chinese Tea Culture.  San Francisco, CA:  Long River Press, 2004.
Siew, Lim Kean.  The Beauty of Chinese Yixing Teapots and the Finer Arts of Tea Drinking.  Singapore:  Times Edition, 2001.
The Zisha Museum of Yixing, Pottery Capital of the World.  21 April 2015.
______________________________________________________________________________
[i] https://redblossomtea.com/pages/yixing, 21 May 24, 2019.
[ii] Yixing also has the nickname "World of Caves" or "Dong Tian Shi Jie" in Chinese. There are more than eighty limestone caves in the area.
[iii] Zisha clay is composed of quartz, kaolin, hematite, isinglass, and many other minerals. Potters have been making pottery in the Yixing area since the Neolithic era. Chunfang Pan, Yixing Pottery:  Purple Clay and the World of Chinese Tea Culture, (San Francisco, CA:  Long River Press, 2004), 49.
[iv] Rose Kerr and Luisa E. Mengoni, Chinese Export Ceramics, (London:  V & A Publishing, 2011), 132.
[v] Garth Clark, The Artful Teapot, (London:  Thames & Hudson, 2001), 14.
[vi] The "Chinese intelligentsia" were poets, writers, painters, philosophers, art connoisseurs. They became very involved with Yixing pottery. Clark, 15.
[vii] Clark, 15.
[viii] Clark, 15.
[ix] From my research Yixing pottery is categorized in many ways by different contemporary scholars. Some sources say that there are four prominent Yixing styles:  round, square, sculpture, and veined. Garth Clark in The Artful Teapot says there are two styles: "a reductive classical aesthetic" and a "playful organic" that mimics wood, vegetables, fruit, etc.… A sub-category of the latter would be the teapots that incorporate poems or messages. Clark, 15.
[x] Clark, 29.
[xi] https://www.collectorweekly.com/stories/90229-royal-doulton-impressions-series-by-g, 17 May 2019.
[xii] Founded in 1952 the Experimental Design Laboratory provided company designers office space adjacent to student drafting and shop areas to do experimental work and to lecture and advise students. Participating companies included General Motors, Shell Oil, and Owens-Corning Fiberglas Corporation. This innovation led to Pratt being recognized as the program closest to production realities. https://www.idsa.org/members/alexander-jusserand-kostellow-fidsa, 20 May 2019.
[xiii] Gulotta taught at Pratt from 1955 until 1985.
[xiv] https://library.syr.edu/digital/guides/g/gulotta_g.htm, 22 May 2019.
[xv] The Violet Sand Factory is in Yixing, China. https://library.syr.edu/digital/guides/g/gulotta_g.htm, 22 May 2019.
[xvi] Clark, 30.
[xvii] He Dao Hong (b. 1943) studied at Central Industrial Art Academy. He learned his skills from Yixing masters Wang Yin Chun and Pei Shi Min. Li Chang Hong (b. 1937) was born in Yixing and learned his skills from Gu Jing Zhou. He worked at the Yixing Zisha Industrial Art Manufacturing.
[xviii] From my research it appears that "The Sun and Rain Art Studio" is located near Yixing, China. http://www.leonacraig.com/catalogue_art_gallery/teapots/lu_jain_xing_page_z.htm, 24 May 24, 2019.